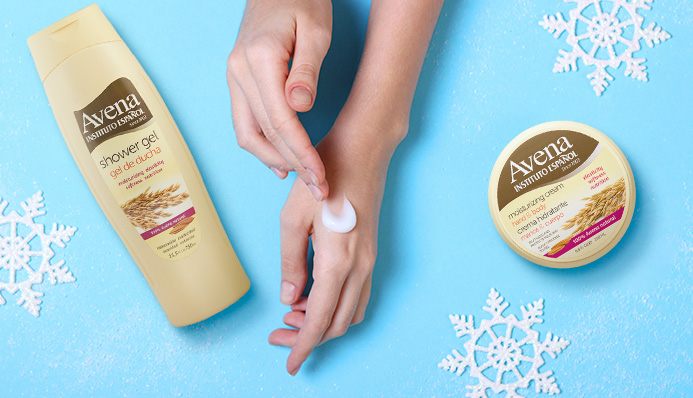 How does the cold affect the skin?
Cold weather can do a lot to your skin. You may not struggle with your skin all year, but then the winter months come along, and suddenly you're plagued by dry, itchy, rough, scaly, and/or cracked—maybe so cracked, it starts to bleed—skin.
But you can do a lot for your skin.
Of course, it's always advisable to eat right and stay hydrated. A healthy diet and an appropriate fluid intake work wonders for your health, which shows on your skin. But beyond that, there are steps you can take this season to ensure you give your skin the special care it needs to survive the long winter ahead:
Although this may seem counterintuitive, do not crank up the heater in your house; this will only dry out your skin.
When all you want is to take a long, hot shower, don't! Take short showers with lukewarm water, as it won't irritate or dry out your skin the way hot water does.
After hanging out in the snow or getting caught in the rain, swap your wet clothes out for a dry outfit as soon as you can, as they can irritate your skin.
Wear sunscreen on your face and hands. It isn't just for the glaring summer sun; the winter sun emits UV rays, as well. Choose a sunscreen with SPF protection that has zinc oxide and titanium dioxide as its active ingredients to fully block these damaging rays—and reapply it if you're outside for a while!
After taking these measures to protect your skin from the cold, go the extra mile. For your skin to thrive this season, choose products that actually nourish your skin.
Here are our Avena picks for you to add to your skincare routine this winter:
By taking protective measures and enhancing your skincare routine with the right Avena products, you can be sure your skin will remain beautiful and healthy this winter.
References
Rasmussen, B. (2017). 6 ways to protect your skin during cold weather. Retrieved from https://intermountainhealthcare.org/blogs/topics/live-well/2017/02/6-ways-to-protect-your-skin-during-cold-weather/
Marks, H. (2018). Top 10 tips for healthy winter skin. Retrieved from https://www.everydayhealth.com/skin-and-beauty/top-tips-for-healthy-winter-skin.aspx
Rennert, J. (2019). Here's why you still need SPF in winter—and the best formulas to buy now. Retrieved from https://www.vogue.com/article/sunscreen-winter-best-formulas-spf
Hurly, A. (2017). Wear sunscreen all winter and your skin will actually age more slowly. Retrieved from https://www.gq.com/story/wear-spf-sunscreen-all-winter