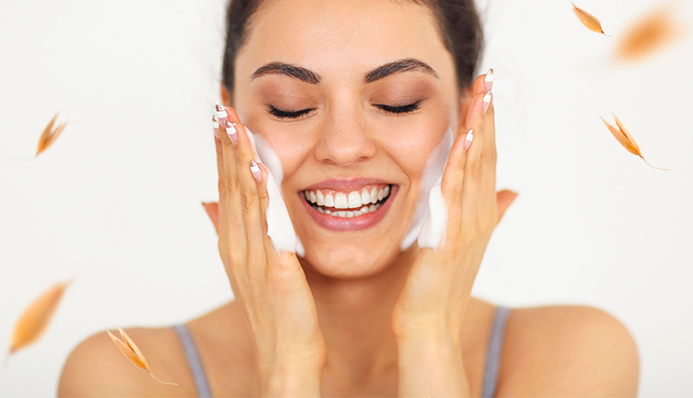 Most of us strive to have beautiful, healthy skin. Sometimes, though, it can be confusing to distinguish between legitimate skincare recommendations and the not-so-legitimate. So, here are some tips we hope will help you along in your quest for naturally healthy skin.
Stay well-hydrated
Our skin reflects whatever goes on inside our body. If we're not getting enough water, our skin looks dehydrated (dry, dull, etc.). The body needs at least 8 cups of water every day to get rid of toxins and help us get the glowing skin we're looking for.
Use Cleanser-Serum-Moisturizer
Use a cleanser twice a day, one that doesn't make your skin feel tight after washing. Then use a serum with vitamins C and D to avoid dehydration and early signs of aging. And everyone needs moisturizing cream, regardless of skin type, but use one that's gentle on your skin, like Avena Soft Body Cream, which uses the nourishing properties of milk in its non-oily, fast-absorbing formula to give your skin a moisturized, silky finish. It's also suitable for all skin types.
Apply sunscreen
The sun is responsible for the appearance of most fine lines. Choose one with SPF 30 even on cloudy days. Remember: your face starts at your chest!
Take your time when applying products
When layering these products, let each one be absorbed for a few minutes so that it's not counteracted or removed when you apply the next one.
Follow a healthy diet:
Salmon and herring: these fish options contain omega-3 fatty acids, which keep your skin supple and moisturized and reduce inflammation, redness, and some acne.
Avocado: a good source of the antioxidant vitamin E. They also contain compounds that help protect your skin from sun damage.
Vegetable side dishes: such as carrots, spinach, and sweet potatoes, which contain beta-carotene, a natural sunblock; red or yellow bell peppers, some of the best sources of vitamins C, which is vital in collagen production; or broccoli, rich in zinc, vitamins A and C, and sulforaphane, a powerful compound that protects the skin from the sun and even some kinds of skin cancer.
Walnuts and sunflower seeds: feel free to snack on these, both of which are high in vitamin E, and walnuts are rich in omega-3 and omega-6 fatty acids.
Dark chocolate: the perfect dessert, as cocoa contains antioxidants that protect your skin from sun damage and improve hydration, blood flow, skin texture, and the appearance of wrinkles.
Wash your face before going to bed
After a long day, it can be tempting to go to bed without taking your makeup off, but washing your face at night is important in order to get rid of all the gunk accumulated throughout the day, which can clog your pores and cause blemishes.
Shower the right way
Make sure you use lukewarm water, as hot water will only dry out your skin.
If you haven't already, switch from bar soaps to shower gels; they're gentler, perfect for dry, sensitive, or eczema-prone skin. Most shower gels are further enriched with calming and soothing ingredients.
Our Soft Shower Gel, for example, is made with the nourishing properties of milk for a deep clean that hydrates and leaves the skin feeling silky. Or you can try Avena Shower Gel, as it's made with the natural properties of oats to provide elasticity and moisture and is ideal for mature, sensitive, and dry skin types.
Round out your shower routine with the proper deodorant. Avena Active and Avena Suave deodorants are both allergen-free and alcohol-free and provide 48 hours of freshness that all skin types need.
Bedtime habits
If you usually wake up with puffiness or dark circles under your eyes, sleep with an extra pillow; this will drain fluid from your face, preventing it from pooling around your eyes. Keep your skin clean by changing pillow cases at least once a week, and definitely either wash, wrap, or pick up your hair before going to bed. Also, get plenty of rest!
It may seem tough to remember all this, but soon, these habits will be fully developed, and you'll be well on your way to healthy skin. You can always refer to this guide and rely on Avena to help you out. Your skin will thank you for it.
References
ASC Friend. (2018). 5 beauty tips for your daily skin care routine.
Campbell, S. (2013). Soap or shower gel: What's the difference?
Jones, T. (2018). The 12 best foods for healthy skin.
Suico, K. (2019). The 21 best skin-care tips of all time, according to dermatologists.
Yuen, C. (2016). A guide to taking care of your skin.