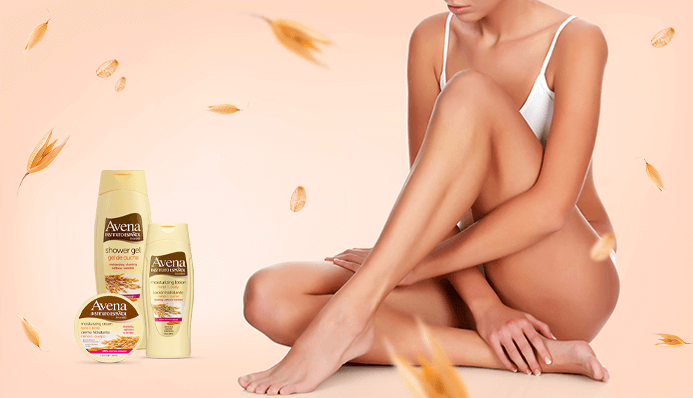 Avena Lotions and Creams: the Hydration Your Skin Needs
It's no secret: oatmeal offers many benefits, and it's often listed as the first ingredient in skincare products. That's because oats offer a number of nutrients (manganese, biotin, vitamin B1, magnesium, molybdenum, phosphorus, copper, chromium, zinc, protein, lipids, saponin, flavonoids, beta-glucan, and various enzymes) that work together to convert oats into nourishing oatmeal, and it's these properties that have made it an important component for skincare of any kind. Oatmeal:
–      Calms irritated or sun-damaged skin
–      Softens, repairs, and protects your skin
–      Gives your skin a brighter look
–      Helps to restore your skin's pH balance
–      Hydrates your skin, protecting it from environmental aggressors
–      Helps combat hives, rashes, and itching as a result of insect bites
–  Contains beta-glucans that form a protective layer, which hydrates your skin, heals     abrasions, stimulates collagen production, and boosts your immune system
Because of these benefits, Avena products have become a valuable ally for healthy, fresh, perfect skin.
Discover your natural beauty with Avena Instituto Español.
So, if you're looking to hydrate and protect your skin's beauty, look no further and use Avena Moisturizing Cream or Avena Moisturizing Lotion from Instituto Español.
Our lotions and creams are made with oatmeal ideal for the whole family. It's fast-absorbing, non-greasy formula is also suitable for all skin types. With Avena:
–      Hydrate and calm your skin
–      Prevent the accumulation of dry skin cells
–      Improve your skin's elasticity
–      Provide your skin with nourishing softness
At Instituto Español, we encourage you to indulge in hydrating products that help give your skin the daily nourishment it needs, and protect your natural beauty.
References:
–      Las Plantas Curativas.La avena para la piel qué es…
–      Medico de Salud. (Marzo 23, 2018).22 mejores beneficios de la avena para la piel, el cabello y la salud.
–      Vicente, M. (5 abril 2017).Avena para la piel: beneficios y tratamientos